Daiwa's added Tatula Elite Series Bass Rods to its stellar line up. What makes these rods so special? These are true signature series rods that were developed by Daiwa's Pros such as Randy Howell, Brent Ehrler, Ish Monroe, Takahiro Omori, Andy Montgomery, Seth Feider and Cody Meyers. Each pro was asked to pick their favorite techniques and design specific rods to be the ultimate action to accomplish that technique. Our Pros were given absolutely free reign to pick rod blank, guides and reel seat, so this series is the perfect personalized series line of rods.
Now anglers do not have to guess what the right rod action would be for a specific technique. Daiwa pros have taken all of the guess work out of it so you don't have to hunt for the right rod and can concentrate on catching more fish.
Get a free Daiwa/Huk Hooded Performance Shirt With Purchase!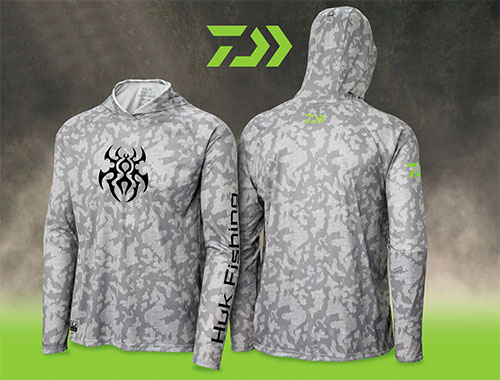 Features
Tatula Elite Rods are designed with SVF Nanoplus Super Volume Fiber blanks for increased sensitivity and less weight. Crankbait rods are designed with fiberglass / graphite construction providing a slower reacting blank. The slower reacting blank is needed for the proper action of the crankbaits and allows fish to inhale baits better and not tear hooks. This will result in improved hookup ratio while allowing and you increased sensitivity due to the graphite wrapped blank construction. All blanks have Daiwa's BIAS graphite fiber construction which prevents twisting and ovalization of the blanks for increased casting accuracy and improved distance. Our Pros had the opportunity to choose either Daiwa exclusive Air Guide System (AGS) for more sensitivity or Fuji Alconite guides. The team could also choose our Daiwa custom reel seat or Fuji reels seat upon their preference and to round out the series are elevated looking grey EVA foam grips for greater comfort.
Daiwa's Exclusive Super Volume Fiber-Modulus SVF Graphite blanks or GLATECH Fiberglass construction
X45 Bias Graphite construction prevents twisting of blanks for casting accuracy
Daiwa AGS guides or Fuji Alconite ring guides
Daiwa Exclusive custom designed reel seats or Fuji reel seats
Limited 5 Year Warranty
AGS AIR GUIDE SYSTEM
Carbon framed guides have a higher rigidity than titanium frame guides and greater sensitivity which conveys even the slightest fish bites to angler's hands through the line.
Model
Pwr
Act
Len
Pcs
Line Wt.
Lure Wt.
Guide Type
TAEL691HFB
H
F
6'9"
1
16-30
1/4-1 1/2
Fuji Alconite
TAEL701MMHXB-AGS
M-MH
XF
7'0"
1
8-20
1/8-1
DAIWA AGS
TAEL711HFB
H
F
7'1"
1
16-30
1/4-1 1/2
Fuji Alconite
TAEL731MHFB
MH
F
7'3"
1
10-20
1/4-1
Fuji Alconite
TAEL691MLRB
ML
R
6'9"
1
8-14
1/4-5/8
Fuji Alconite
TAEL701MLRB
ML
R
7'0"
1
8-14
1/4-5/8
Fuji Alconite
TAEL741MHRB
MH
R
7'4"
1
12-25
1/4-1 3/8
Fuji Alconite
TAEL741HFB-AGS
H
F
7'4"
1
30-55 BRAID
1/2-1 1/2
DAIWA AGS
TAEL731HFB
H
F
7'3"
1
14-30
3/16-1 1/2
Fuji Alconite
TAEL761HFB-AGS
H
F
7'6"
1
16-30
1/4-1 1/2
DAIWA AGS
TAEL801HXB-AGS
H
XF
8'0"
1
30-55 BRAID
1/2-1 1/2
DAIWA AGS
TAEL701MHRB-G
MH
R
7'0"
1
10-20
1/2-2
Fuji Alconite
TAEL741MHRB-G
MH
R
7'4"
1
10-20
1/2-2
Fuji Alconite
TAEL801MHRB-G
MH
R
8'0"
1
10-20
1/2-2
Fuji Alconite
TAEL701MLFS
ML
F
7'0"
1
4-10
(6-15 BRAID)
1/16-3/8
Fuji Alconite
TAEL711MFS-AGS
M
F
7'1"
1
6-12
(6-20 BRAID)
1/8-1/2
DAIWA AGS
TAEL711MHFS
MH
F
7'1"
1
6-14
1/4-3/4
Fuji Alconite
TAEL731MXS
M
XF
7'3"
1
6-14
(8-20 BRAID)
3/16-1/2
Fuji Alconite
TAEL741MFS-AGS
M
F
7'4"
1
6-14
(8-20 BRAID)
3/16-1/2
DAIWA AGS
TAEL761MLMFS-AGS
ML-M
F
7'6"
1
5-12
(8-20 BRAID)
3/16-1/2
DAIWA AGS
WARNING: This product can expose you to chemicals including Di(2-ethylhexyl)phthalate (DHEP) and lead, which are known to the State of California to cause cancer, and birth defects or other reproductive harm. For more information, go to www.P65Warnings.ca.gov
Another phenomenal rod design by Ish Monroe. It's referred to as a long cast frog rod but I also use it for flipping and jig fishing.

These Rods are truly balanced and light , I own three of them now and can't express how perfect they are for the described action action.. the 7'6" Neko/ hair jig is also perfect for spybaiting !!!

These rods are very balanced with a 2500 reel. Their action is extremely fast and capable of casting smaller weights accurately. They also have power in the back side to move bigger fish.

Can't say enough about these new Tatula Elite Rods. Just bought another crank chatter rod and the Cody Meyer 7'4 versatile spinning AGS. Amazing rod line up. I'll be getting more. Great action, lots of back bone.

I now have 5 different Tatula Elite Rods and they are solid. Light, balanced, sensitive and durable. Both the AGS and Fuji rods are very nice. I'll be buying more.

Ehrler Crank Chatterbait rod

Love this rod. It will be my new chatterbait and square bill rod. Great action will keep em pinned.

Light, balanced and great action. Great all around rod for lots of techniques.

Well worth the price. Great action and sensitive. For when you need to put the bait where others are not.