The TATULA 100 is the smallest and lightest reel in the series. It is the most comfortable and palmable reel seen in many years. And with a feather weight of 6.9 ounces it may be the lightest, most fatigue free, reel Daiwa has ever built. The Zero Adjuster spool setting and T-Wing System level wind, casts longer and more accurately. The comfort is enhanced by redesigned Soft Touch Handle Knobs. The reel is also well suited for junior anglers with smaller hands. The bones of the reel are strong with an Aluminum Frame providing rigidity and a smooth performance.
T-wing System
Daiwa's T-wing System solves an age old problem with baitcasting reel levelwind systems. The "T" aperture allows line to flow freely through the wide top section on outcast, reducing the normally sharp angles and friction that slow line flowing through a narrow aperture when exiting the reel. For retrieve, line drops into the narrow, lower channel of the T-wing for even distribution across the spool width.
Get a free Daiwa/Huk Hooded Performance Shirt With Purchase!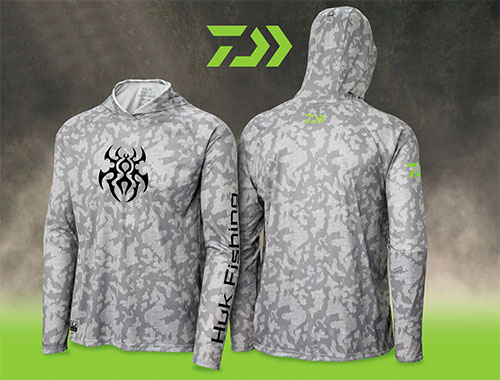 Features
Compact 38mm Size
Feather Weight of 6.9-ounces
Magforce-Z cast control
Zero Adjuster
T-Wing System
Redesigned Soft Touch Handle Knobs
Aluminum Frame for strength rigidity and smooth performance
A Light Line Baitcaster well suited for finesse applications
Matte Black Finish with Custom Spider Graphics
Available Gear Ratios (6.3:1) (7.1:1) (8.1:1)
Models
| Model | Bearings | Ratio | Line Per Crank | Wt (Oz) | Mono Line Cap/ J-Braid Cap | Drag |
| --- | --- | --- | --- | --- | --- | --- |
| TTU100HS | 7+1 | 7.1:1 | 29.8" | 6.9 | MONO: 12/150 - 14/125 BRAID: 30/140, 40/100 | 11 |
| TTU100XS | 7+1 | 8.1:1 | 33.9" | 6.9 | MONO: 12/150 - 14/125 BRAID: 30/140, 40/100 | 11 |
| TTU100HSL | 7+1 | 7.1:1 | 29.8" | 6.9 | MONO: 12/150 - 14/125 BRAID: 30/140, 40/100 | 11 |
WARNING: This product can expose you to chemicals including Di(2-ethylhexyl)phthalate (DHEP) and lead, which are known to the State of California to cause cancer, and birth defects or other reproductive harm. For more information, go to www.P65Warnings.ca.gov
awesome reel! very smooth and cast great. also will cast small baits very well

The new tatula is awesome smooth casts a mile and I really like the new reel grips. @rbbassfishing.net

Super smooth and tough!

THESE ARE GREAT LITTLE REELS! THEY CAST GREAT, VERY SMOOTH AND FITS IN YOUR HAND VERY WELL. BEST TATULA THAT I HAVE EVER USED

great reel! will work for any application you need. works great for throwing light baits

AWESOME LITTLE REEL, WILL WORK FOR A LOT OF APPLICATIONS. I USE IT TO THROW SHAKEY HEADS AND IT WORKS GREAT

I own 3 or four of these reals now and amazing upgrades from the CT which I thought was Ana excellent real as well! @RBBASSFISHING.NET

These reals are amazing! Love the new and improved handles. Real feels great in your hand and casts a mile! @RBBASSFISHING.NET

Love all of my Diawa reels cast a mile smooth and durable