TATULA 200 is the answer to many heavier tackle demands. Reinforced Brass Gearing can carry the load of more powerful quarry and is housed with a Rigid Aluminum Frame and Sideplate. To handle increased torque, a custom 100mm Swept Handle can turn the barrel with greater ease. The handle also utilizes comfortable Soft Touch Knobs. The baitcaster is available in Standard (6.3:1) and High Speed (7.3:1) gear ratios in left or right hand crank. A Matte Black Finish with Red Spider Graphics make this reel a looker. Well designed for deep cranking, punching, flipping, chatter baits, swimbaits, and working a frog.
T-wing System
Daiwa's T-wing System solves an age old problem with baitcasting reel levelwind systems. The "T" aperture allows line to flow freely through the wide top section on outcast, reducing the normally sharp angles and friction that slow line flowing through a narrow aperture when exiting the reel. For retrieve, line drops into the narrow, lower channel of the T-wing for even distribution across the spool width.
Get a free Daiwa/Huk Hooded Performance Shirt With Purchase!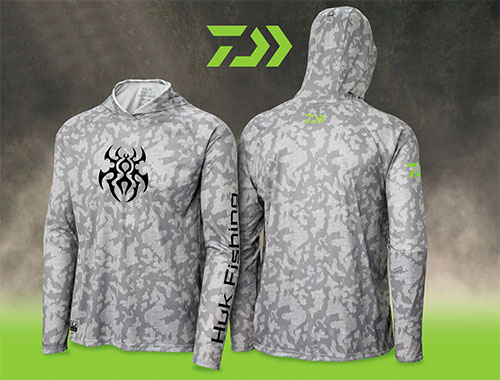 Features
Deep Spool and generous line capacity
Reinforced Brass Gearing
Rigid Aluminum Frame and Sideplate
100mm Swept Handle provides greater torque
Soft Touch Knobs Available in 6.3:1 and 7.3:1 gear ratios in left or right hand crank
A Matte Black Finish with Red Spider Graphics
Well suited for heavier line applications from flipping to frogging
Models
Model
Bearings
Gear Ratio
Line Per
Handle Turn
Wt (Oz)
Line Cap
Drag
TAT200H (RH)
7BB, 1RB
6.3:1
28.2"
8.1
MONO: 16/185 - BRAID 55/130
13.2
TAT200HL (LH)
7BB, 1RB
6.3:1
28.2"
8.1
MONO: 16/185 - BRAID:55/130
13.2
TAT200HS (RH)
7BB, 1RB
7.3:1
32.2"
8.1
MONO: 16/185 - BRAID 55/130
13.2
TAT200HSL (LH)
7BB, 1RB
7.3:1
32.2"
8.1
MONO: 16/185 - BRAID:55/130
13.2
WARNING: This product can expose you to chemicals including Di(2-ethylhexyl)phthalate (DHEP) and lead, which are known to the State of California to cause cancer, and birth defects or other reproductive harm. For more information, go to www.P65Warnings.ca.gov